Solar Flower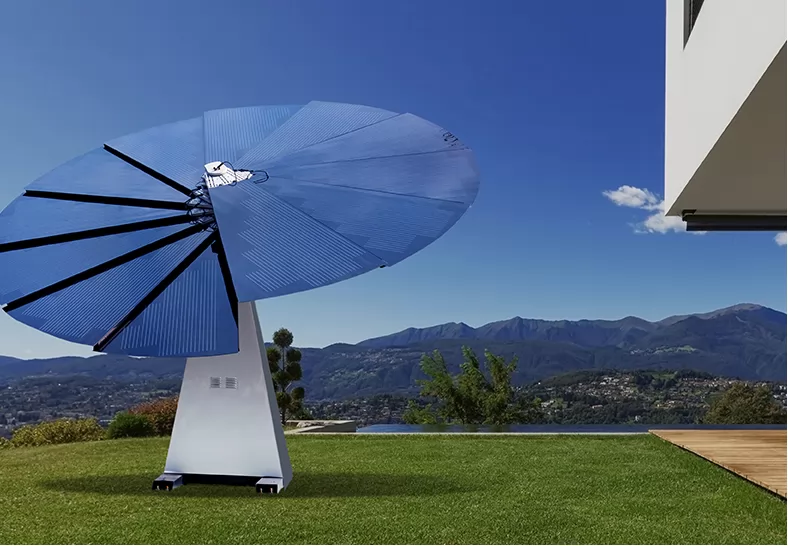 Using the global positioning tracking algorithm, the blade (solar panel) can automatically adjust the direction, angle and retractable state of the blade following the movement of the sun, and always maintain the best power generation angle.
As a Solar Flower manufacturer, we specialize in producing cutting-edge solar power solutions that are not only efficient and effective but also aesthetically pleasing and environmentally friendly.
Our Solar Flower is a unique and innovative design to automatically adjust the angle, direction, and retractable state of its blades (solar panels) in real-time to follow the movement of the sun. This ensures that the Solar Flower always maintains the optimal power generation angle, maximizing its energy output and efficiency.
Our Solar Flower is designed to be both functional and beautiful, featuring a unique, flower-shaped design that adds a touch of elegance and sophistication to any outdoor space. It is also environmentally friendly, using renewable solar energy to generate electricity and reduce carbon emissions.
In addition to its innovative design and functionality, our Solar Flower is also highly durable and long-lasting, capable of withstanding harsh weather conditions and providing reliable power for many years to come. It is also customizable to fit any size or shape of outdoor space, making it an ideal solution for any project.
Our company is committed to providing our customers with the highest level of service and support. We work closely with our clients to understand their specific needs and goals, and we offer a range of customization options to ensure that our Solar Flower meets their exact requirements.
If you want to learn more about our Solar Flower and how it can benefit your outdoor space, please don't hesitate to contact us.
Our team of experts would be happy to answer any questions and help you choose the perfect solution for your needs.