From September 6 to 8,2023 BEX Asia Singapore is held as scheduled at the Sands Expo & Convention Centre in Singapore Marina Bay.
Photovoltaic industry leaders, technical experts, associations and ecological partners from all over the world gather in the "Lion City" to discuss the new direction of the future development of the building materials industry.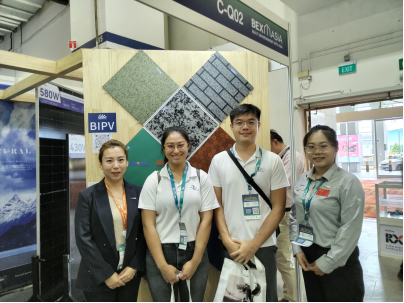 YINGLI Gain Solar brings a series of standardized products to the exhibition to show the power of Chinese BIPV to the world.
It is understood that BEX Asia is one of the most influential and large-scale green building materials exhibitions in Singapore, and also an excellent platform to display the latest green building technology and sustainable development solutions, with more than 30,000 visitors.
Driven by the domestic "double-carbon" policy and the green and low-carbon development of the global construction industry, YINGLI Gain Solar constantly develops the overseas market territory in the BIPV field with its combat effectiveness, innovation and technical hard power.
Suitable for roof photovoltaic tiles—Solar Tile and photovoltaic green building materials suitable for curtain wall—Black Brick、Coloured Glaze attract numerous attention once them appeared, becoming the focus of attention of the audience.
Solar Tile is the design of photovoltaic modules into tiles that can generate electricity, which can not only play the function of traditional tiles, but also have the function of power generation, turning the building into positive energy buildings, which can be used for new Chinese buildings, energy-saving transformation of traditional buildings, beautiful rural towns construction, characteristic towns, villas, etc.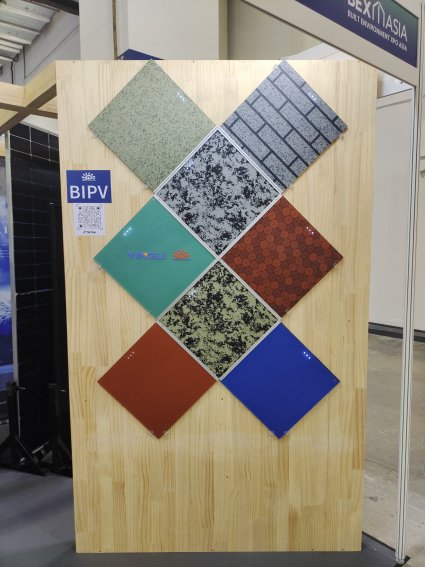 Black Brick's shape and color break through traditional photovoltaic design.It is imitation of stone texture series crystal silicon photovoltaic building materials, avoiding the traditional stone on-site cutting and polishing.It is corrosion-resistant, non-fading, easy to clean, light in weight, hook-mounted installation. It can replace the traditional building materials used in building facade, traditional exterior wall decoration, also can be used with thermal insulation board, improve building energy saving efficiency.
Colored Glaze·Solar Fence is a high-transparent light crystal silicon photovoltaic building material. By dividing the crystal silicon cells into thin strip to achieve uniform arrangement by using the slicing process, it can be used as a fence for courtyard, roads and buildings, and achieve the visual effect without shielding.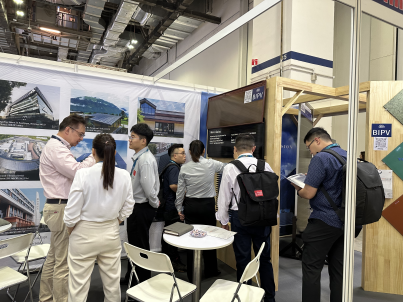 At the site, YINGLI Gain Solar's staff also introduced the BIPV smart solutions that can perfectly match the real needs of customers in detail, including roof tile, building curtain wall and photovoltaic + and other application scenarios.
At present, photovoltaic green building materials has been successfully applied in Beijing Sanlitun Adidas flagship store, Shanghai Merchants Bright City Zero carbon Pavilion, Shanghai Jianke Scientific Research office building, Guangzhou Baiyun International Conference Center II, Dewa new headquarters building and other more than 100 landmark BIPV projects, throughout the UK, Germany, the Netherlands, Dubai, Australia and other nearly 100 countries and regions around the world.
Practice speaks truth, barbarism grows by practice. YINGLI Gain Solar has won the unanimous recognition of the exhibitors by displaying the company's latest standardized products and services, as well as the green building design concept and technological innovation, and gained a firm foothold in the overseas market with the corporate image of BIPV industry benchmark.
This exhibition is an important measure for YINGLI Gain Solar to go abroad and actively explore the international market.In the next step, YINGLI Gain Solar will continue to carry out the road of enterprise development combining technological innovation, management innovation and business model innovation, by creating a closed loop of service, providing photovoltaic building integrated design solutions for the B end, and creating an international leading photovoltaic building integrated system provider for the C end.