Appearance in Chengdu | Gain Solar with Chinese-style photovoltaic building materials welcome a better future of BIPV
From April 19th to 21st, the 22nd China (Chengdu) Building and Decoration Materials Expo (CCBD) was held in the Western China International Expo City, lasting for three days.
Gain Solar, a professional BIPV solution provider with Chinese-style photovoltaic building materials such as solar tiles and Colored Glaze· Colorful made a stunning appearance, fully demonstrating Gain Solar's core technical concept of Chinese-style photovoltaic building materials and providing customers with Chinese-style modern building solutions.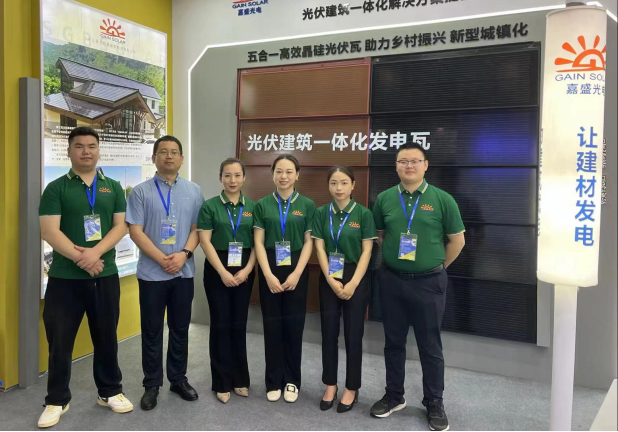 It is understood that CCBD is a Chengdu brand exhibition supported by the Chengdu Expo Bureau and the Chengdu Economic and Information Bureau. It is the largest building industry flagship station in the central and western regions, with the most complete exhibits and new products. Since its establishment in 2004, it has been committed to providing one-stop services such as information exchange, trade negotiations, and industry solutions for professional audiences.
At this exhibition, Gain Solar focused on the display of its smart roof tiles system, highlighting the differences with traditional photovoltaic building materials.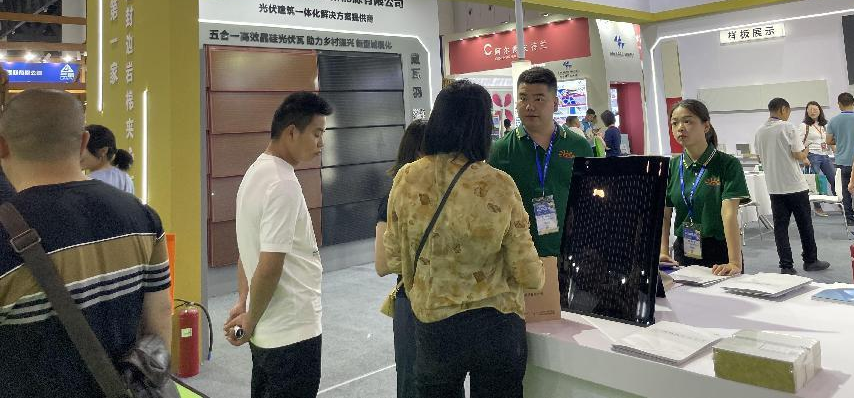 Solar tiles integrate multi-function that including power generation, waterproofing, thermal insulation, wind resistance and noise reduction, fully considering the climate characteristics and roof aesthetics in China. As a new representative of Chinese-style photovoltaic building material, it is particularly suitable for use in new Chinese-style buildings, traditional building energy-saving renovations, beautiful rural and urban construction, characteristic towns, zero-carbon villas, etc., to help rural revitalization and the construction of a new type of urbanization.

As a five-in-one high-efficiency crystalline silicon solar tile system, Solar tile has the advantages of beauty, waterproofing, material savings, easy installation, and higher power generation.
Its artistic and aesthetic design gives the roof a sense of rhythm and order, with a neat arrangement resembling bird wings. Its special hollow design builds a strong waterproof layer like feathers. The multi-level system structure design makes the product both a roof function and power generation. Its modular installation can save more than 50% of working hours. Its high-efficiency crystalline silicon solar cell technology has better light absorption and higher light transmittance.
Solar Tile·Bent Tile integrates functions such as waterproofing, fire resistance, wind resistance, dust reduction, heat insulation, and thermal insulation. It is sturdy, durable, practical, and gives the roof a curved beauty and three-dimensional sense.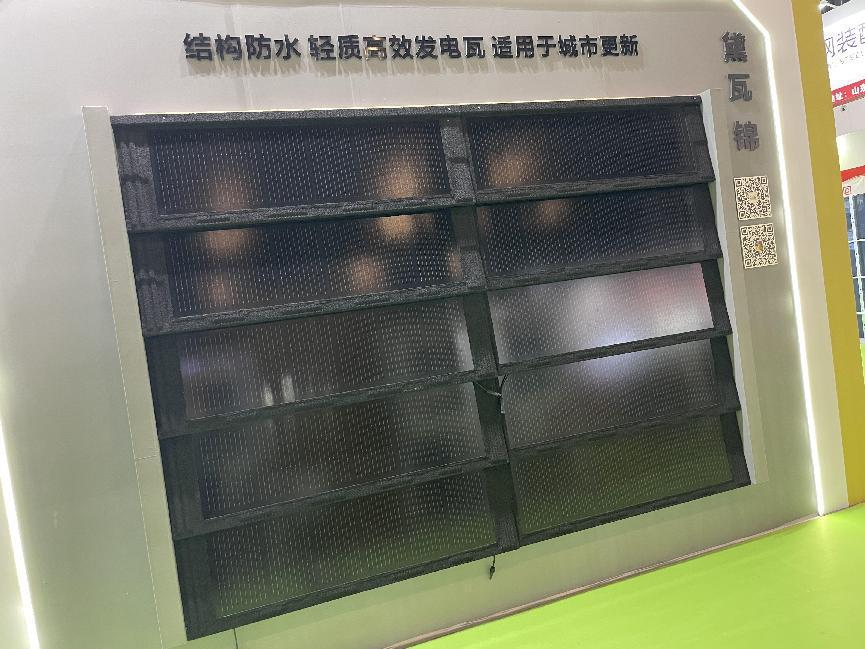 As a new type of photovoltaic metal tile, it is lightweight and easy to cut. The lightweight design can not only reduce the load on the top of the building, but also greatly shorten the construction time and reduce costs. Most importantly, photovoltaic power generation is eco-friendly and achieves a perfect integration of buildings and nature, making it particularly suitable for lightweight roofs such as light steel villas.
In addition, the Colored Glaze· Colorful series of products have upgraded highly transparent nano-film coloring technology and materials.The appearance colors are more uniform and vibrant,the transparency of the film layer is increased by 60%, and they are highly favored by the audience.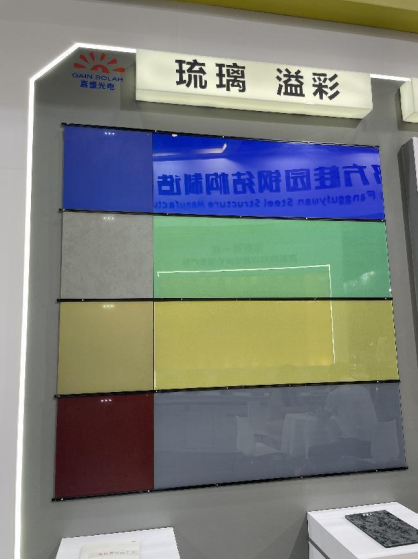 Under the goal of "dual-carbon" , Chinese-style photovoltaic building materials are shouldering an important mission and responsibility to reduce building carbon emissions. In the perspective of life cycle, photovoltaic building materials have become a more cost-effective green building material that can fully replace traditional building materials and be used in building envelopes.
As one of the earliest companies in China to engage in the BIPV industry, Gain Solar is committed to promoting Chinese-style photovoltaic building materials. To date, the company has invested nearly 1 billion yuan in R&D, released 13 generations of BIPV products, applied for 323 patents, and participated in the drafting of 17 standards. The company has obtained the industry's first green building material certification and is the first company to get "dual certification" from TUV Rheinland and CTC. The total application area exceeds 700,000 square meters, with a market share of 40%, equivalent to reducing carbon emissions by nearly 100,000 tons for buildings each year and achieving an average energy consumption reduction of 5.5%.