As one of the oldest building materials, tile has been widely used for thousands of years. Photovoltaic tiles became popular to enable buildings to generate electricity. In the past, the photovoltaic modules used on the roof of buildings always feel simple in shape, monotonous in color, and not very beautiful when laid on the building, and until Gain Solar's Solar Tile appeared, making the building roof take on a new look.

Application demonstration of the third generation of Solar Tile -Russian private villa roof tiles
Recently, a wealthy private villa in Russia because of the problem of power limit and the owner's pursuit of scientific and technological products, so they focused on the third generation Solar Tile of Gain Solar.
The owner of this villa pays great attention to the use of technology. He hopes that his villa can automatically switch the commercial power supply, and the material of the tiles cannot affect other people in the villa area, so he customized the texture for it. The anti-glare function is added, which can effectively prevent light pollution while generating high-efficiency power.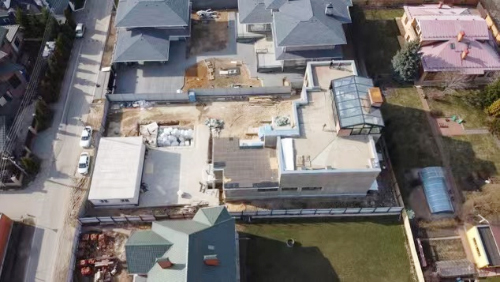 Realize the function of intelligent switching of commercial power
Gain Solar has customized designed a smart home photovoltaic energy storage integrated power generation tile for it. The intelligent inverter can automatically switch the commercial power. During the peak period of electricity consumption, when the photovoltaic tile cannot meet the building electricity demand, it will automatically switch to commercial power mode, and no damage to the overall circuit.
Of course, the roof area is limited. In order to ensure the maximum power generation of the building, Gain Solar's green power generation building materials are used on the facade to maximize the use of the building skin.
A total of 120 blocks of Solar tiles are installed in the villa, with a total of 30kw, Coloured Glaze 20kw, and a total installed capacity of 50kw, which can provide 44,200 kwh of electricity for the building a year, and reduce carbon dioxide emission by 44.07 tons, and reduce dust emissions by 12.02 tons, greatly relieve Russia's power limit problem.
New upgrade features of the third-generation Solar Tile
1. Appearance upgrade: With texture, it can not only meet the needs of architectural beauty, but also prevent light pollution.
2. Performance upgrade: unique waterproof design; exhaust fan design, better heat dissipation performance; self-melting snow and self-cleaning functions; unique wind-resistant design
3. Component upgrade: lightweight, integrated component design, more convenient installation.
Solar Tile provide better residential building carbon neutral solutions for the beautiful rural construction and urban renewal. In addition, Solar Tile 's smooth appearance and excellent power generation efficiency are being recognized by more partners and building developers at home and abroad. It can be predicted that Solar Tile shine brilliantly in the global architecture industry, become a new choice of ecological building roof, and lead the age of green building.